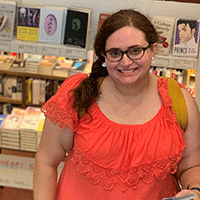 Category
Young Children's Literature
Nicole Gaudier Alemañy was born in San Juan, Puerto Rico, and grew up in Jacksonville, Florida.
In May 2014, Nicole received her Bachelor of Arts degree from the University of North Florida in History and in Art with a concentration in Art History. She went on to complete her Masters of Arts in Art History at Florida State University, concentrating in Renaissance Art & Architecture, in May of 2016. Then in December 2018, she completed her Masters of Science in Information at Florida State University.
Nicole worked in FSU's Robert Manning Strozier library from January 2015 through January 2019. From February 2019 through February 2021, she was a youth services librarian at the Jacksonville Public Library in Jacksonville, FL. Nicole is currently a Children's Librarian at the Brooklyn Public Library in Brooklyn, NY.
Nicole encourages youth of all ages to read and enjoy the library's resources. She firmly believes that readers should have access to diverse and inclusive works that often reflect their own experiences. An avid reader her entire life, she enjoys reading books in various genres and several languages. Nicole is especially fond of works with illustrations demonstrating the illustrator's style and influences.